| | GrowBox™ | EarthBox™ Original | EarthBox™ Junior | |
| --- | --- | --- | --- | --- |
| Dimensions | 28"L x 14"W x 12"H | 29" L x 13.5" W x 11" H | 23" L x 9.5" W x 7.25" H | |
| Can Grow A Full Variety Of Plants | YES | YES | No, small plants only | |
| Exact Plant Placement | YES | No | No | More Info |
| Easier Watering | YES | No | No | More Info |
| Water Well Size | 4 Gallons | 3 Gallons | Just over 1 Gallon | More Info |
| Can Use Natural Rainwater | YES | No | No | More Info |
| Free Fertilizer Included | YES ($12.95 value) | No | No | More Info |
| Top & Bottom Airflow | Yes | No | No | More Info |
| Appearance | Aesthetically Pleasing | Aesthetically Pleasing | Aesthetically Pleasing | More Info |
| Price | Starts at $39.95 | Starts at $35.00 | Starts at $21.00 | More Info |
The GrowBox™ Story and Comparing It To Competitors
1. GrowBox vs EarthBox
Why is the Garden Patch better than others?
In 1994, we began working side-by-side with a commercial tomato farmer, Blake Whisenant, and helped develop his patented EarthBox container growing system. We're proud to say that over the next ten years, we played a significant role in helping Blake and commercial growers double yields, reduce water usage by 60% and use 28% less fertilizer. While the breakthrough technology driving the EarthBox was tremendously successful in increasing productivity, we felt it was lacking the features necessary to make it friendly for the home gardener. In 2004, we parted ways and introduced the Garden Patch GrowBox and the patent pending Nutrient Patch. This combination packed all the punch of the technology found in the EarthBox, but in an attractive and foolproof planter. We often get questions as to why we think the Garden Patch GrowBox is a better. Our answer is simple: People from all around the country tell us that the GrowBox planter is easier to use, works better and it's a lot less expensive than the EarthBox. We read the blogs and listen to comments from people who have seen them side by side and have grown with both.
2. Plant or Seed Placement
The GrowBox shows you exactly where and how many plants or seeds to use for the best growth.
The EarthBox keep you guessing about where the plants and fertilizer should go. This leads to mistakes and very often, complete failure. The GrowBox planter has a larger planting area allowing for more plants and healthier root growth. This gives the best results.
3. Easier Watering, Less Often
The GrowBox lets you easily see the water level so you know when to add water.
With the EarthBox, you never know until it's dry and then you have to bend over and search for a small watering tube. Even worse, the only way you know when the Earth Box is full is when it overflows and water runs out all over your furniture and deck!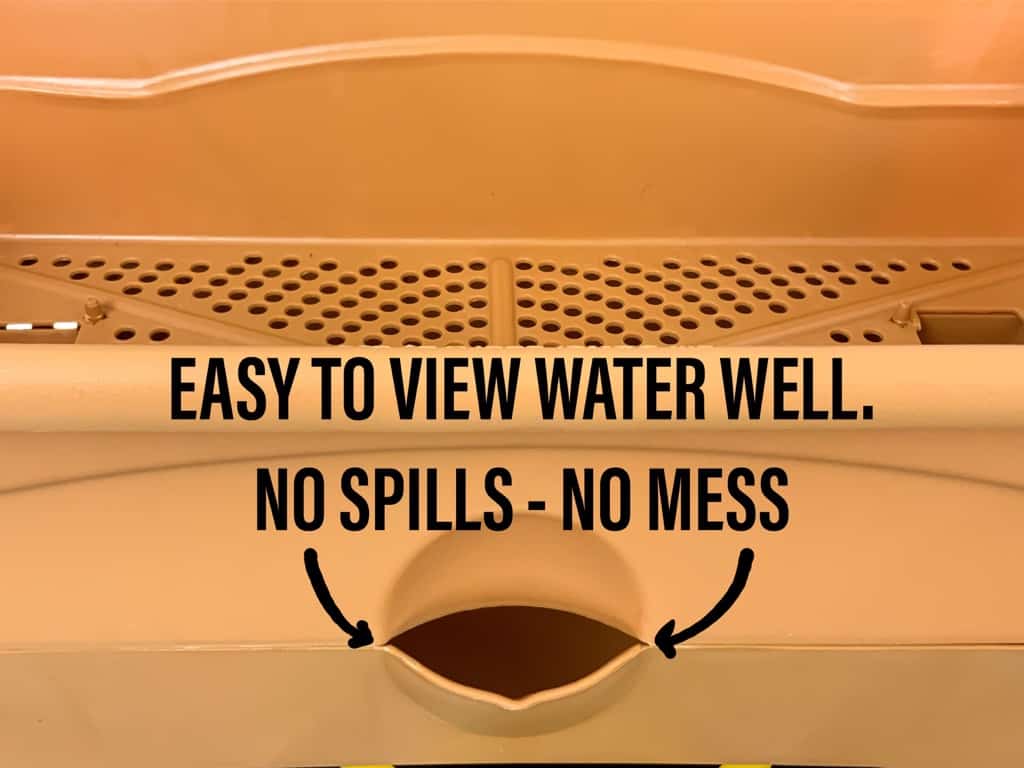 4. Large Capacity Water Well
The GrowBox holds a full 4 gallons of water
That's 40% more than others and can mean 3-4 days longer without adding water. You can easily add water with a hose from 10 feet away or even grow indoors and neatly water them with a can. The EarthBox Original has a water well capacity of 3 gallons and the EarthBox Junior holds just over 1 gallon of water.
5. Can Use Natural Rainwater
The GrowBox planters collect and use pure rain water
Because that's the way nature intended a garden to be. The EarthBox can't use rain water and requires you to have a hose nearby or buy expensive watering attachments. Even if it rains everyday, the Earth Box would dry out and die without tending.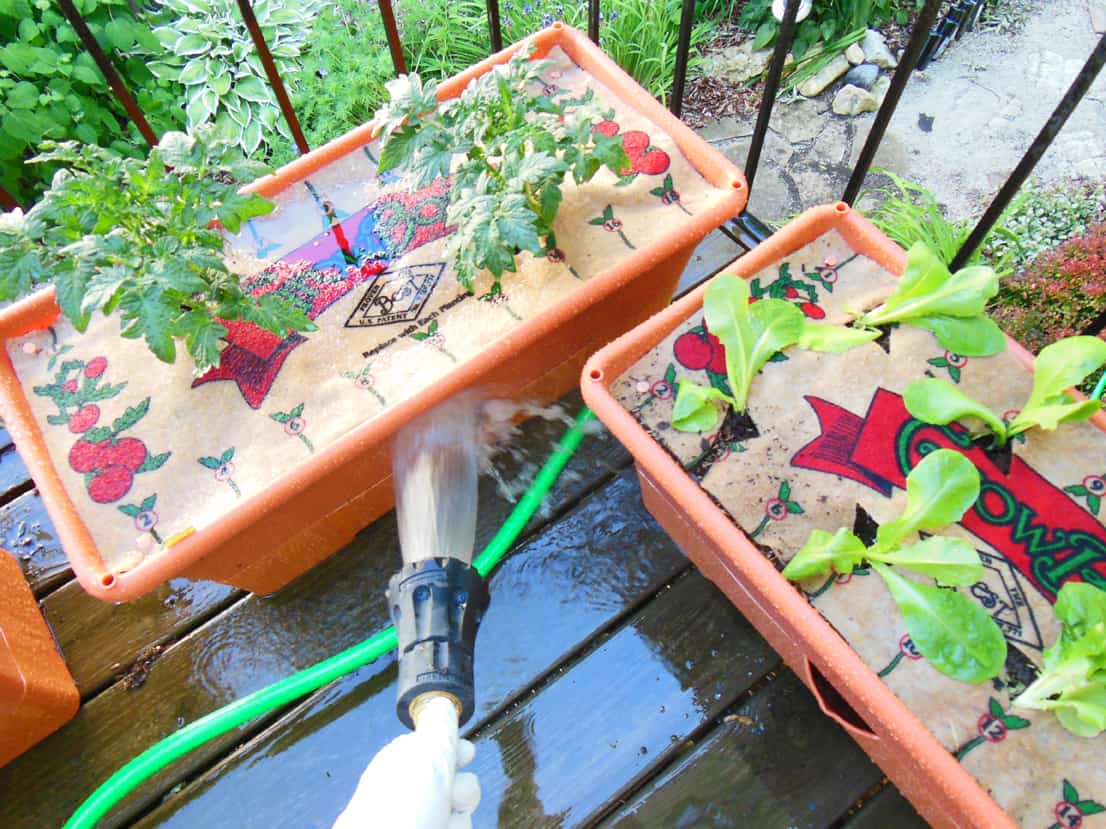 6. Highest-Quality Fertilizer
The GrowBox comes complete with free fertilizer.
Because that's the way nature intended a garden to be. The EarthBox can't use rain water and requir We use a pre-measured, customized blend of premium quality granular and time release fertilizer formulated specifically for container gardening. It's also supplemented with micro-nutrients to provide exactly what your plants need, when they need it. The EarthBox system requires you to buy their fertilizer separately for about $8.00 more, plus shipping charges. They sell a common household lawn fertilizer at premium prices.
7. Top & Bottom Airflow Design
The Garden Patch GrowBox cover design provides air to both the top and bottom of the soil to aerate and maintain the proper growing temperature and to prevent fungus.
The EarthBox planter is completely covered, repelling cooling rainwater and causing the soil to become super-heated during the summer months. The GrowBox covers have the right amount of fertilizer built-in and can be replaced while the plants are still growing. Replacing the EarthBox covers requires that the plants be destroyed.
8. Appearance
It may just be us, but we think the Garden Patch GrowBox is far more attractive than all the others. Your GrowBox planters will compliment any deck, patio or home and garden decor. They're neat, compact and appealing enough to be decorative flower planters. Yet inside each Garden Patch GrowBox lies an innovative and award-winning gardening tool.
9. Price
The GrowBox planter is sensibly priced and a far better value – especially in today's economy.
We strongly encourage you to compare prices. The GrowBox planter is sensibly priced and a far better value – especially in today's economy. Our planters are the highest quality and unlike some others, are proudly made in the USA. And with our One Year Money Back Guarantee, there's no risk to you.
Many new garden gizmos have recently appeared. Everything from complicated hydroponics, labor and space intensive raised beds, expensive plug-in counter growers, and flimsy hanging bags of dirt.
None of them solve the problems that everyday people have with gardening. None of them compare with the ease, value and superior productivity of the Garden Patch GrowBox. Only the GrowBox provides a simple, natural, fool-proof way to grow vegetables at home – that works year after year no matter where you live. There's no mess, no digging or weeds and never any troubles. The GrowBox is easy enough for even kids to have fun with yet productive enough to feed an entire family.
Gardening with the GrowBox planters means guaranteed success. Gardening with the GrowBox truly means "Happy Gardening!"