Plant diseases can be frustrating, especially when you invest so much time and energy in your tomato garden. It may seem like it was all a waste, but you can revitalize your garden by learning about tomato diseases and how to spot them. If you can stop a disease during its early stages, you could save yourself a lot of heartache in the future.
You can group different tomato diseases based on their shared causes, such as:
Bacterial pathogens
Fungal pathogens
Physiological disorders
Phytoplasma
Viral pathogens
Water molds
1. Bacterial Canker
A bacterial canker typically infects a plant through infected seeds. If your tomatoes have bacterial canker, it could be one of two types of infection:
Systemic Infection. With a systemic infection, bacteria spread throughout the entire plant. Symptoms include leaves that curl, grow yellow, wilt, and turn brown before collapsing. You may also notice gradually darkening streaks on the stems.
Secondary Infection. Secondary infections affect the stems, leaves, and fruit, but only on the surface. Symptoms include leaf spots and bumpy lesions with white haloes on the tomato fruits.
Pro Tip: If you soak seeds for 25 minutes in water at 130 degrees Fahrenheit, you can eliminate the harmful pathogen before planting.
2. Bacterial Speck
Bacterial speck is a more rampant disease during cooler weather. Once temperatures reach 75° F, the progress stops. However, your crops could already face significant damage before you get to the warmer months.
Symptoms of bacterial speck disease include stems, leaves, and fruit with dark brown or black lesions. You'll probably also notice a yellowish halo around these lesions.
Pro Tip: Since bacterial speck is a cool-weather disease, waiting until warm-weather months to plant can help prevent your plants from getting infected.
3. Bacterial Spot
Bacterial spot is a common tomato disease, sticking around through multiple seasons. Typically the bacteria spread through infected seeds and attack the plant's stem and leaves.
Do you think your tomato plants have bacterial spot disease? Look for leaves that appear soaked with water. Other tell-tale signs are large, dark splotches at the leaf edges.
Pro Tip: Don't use sprinklers to irrigate your crops—they'll only splash the disease onto nearby plants.
4. Black Mold
One of the most common tomato diseases is black mold. Black mold is a fungal infection that attacks ripe tomatoes before you can pick them and ruins the crop. This fungus can take hold if the fruit has wounds or sunburned areas.
Black mold symptoms include lesions on the fruit's surface. These could be anything from minute specks to deep, round lesions that can destroy the fruit.
Pro Tip: If your tomato garden struggles with black mold, pick the tomatoes as soon as they ripen and make sure to leave enough room between plants for proper air circulation.
5. Early Blight
Amid rainy weather and consistently wet conditions, tomatoes are more susceptible to a fungal disease called early blight. Early blight spores can become airborne or linger in water and reach tomato plants when they get splashed.
Symptoms of early blight include stems, leaves, and fruit with tiny black or brown spots. You'll probably also notice concentric rings—the trademark sign of early blight.
Pro Tip: You can reduce the spread of early blight by eliminating host plants. However, putting these infected plant parts on the compost will put your healthy crops at risk.
6. Septoria Leaf Spot
Septoria leaf spot can infect many plants, including tomatoes and solanaceous plants. It's a fungal infection spread by rain, bugs, wind, and gardening equipment.
If your tomatoes have leaf spots, you'll notice little round spots on the leaves. These spots typically grow and create large blotches on the plant. You may see tiny areas in the center of the spots that look like pimples.
Pro Tip: Always remember to properly clean and sanitize your garden and equipment after every season to ensure that Septoria leaf spot spores don't spread further.
7. Verticillium Wilt
It's nearly impossible to get rid of Verticillium wilt because it may persist in the soil and endure for several seasons. Many people can mistake Verticillium wilt with Fusarium wilt if they don't use a lab diagnosis.
Symptoms of this disease include older leaves developing yellow V-shaped sections, turning brown, and eventually dying. Tomato plants infected by Verticillium wilt don't typically die, but they won't produce as much fruit as healthy plants.
Pro Tip: Do you struggle to keep your tomato fruits healthy? A Garden Patch's reliable tomato planters can take care of all the gardening for you! Our GrowBoxes have perfect plant spacing, automatic fertilization, and nutrient packs to give your plants everything they need to grow correctly (including dolomite).
8. Blossom-End Rot
Blossom-end rot is pretty self-explanatory. This physiological disorder causes the ends of your tomato blossoms to turn brown and decay. While many first-time gardeners believe an infection is the root cause, it's actually physiological.
Pro Tip: Blossom-end rot often results from moisture issues, so applying a mulch layer is an easy way to ensure your tomato plants retain adequate moisture levels.
9. Catfacing
Catfacing is one of many all-too-common tomato diseases that leaves fruit puckered and distorted. If your plants are dealing with this physiological disorder, you'll notice symptoms like scars and irregularly shaped fruit.
What causes your tomatoes to develop catface? Several factors may contribute to this disease, including:
Unusually high or low temperatures
Disturbances while the flowers bloom
Soil with too much nitrogen
Exposure to herbicides
Pro Tip: Is catfacing a recurring problem for your tomato plants? Consider switching next planting season to varieties like Duke and Walter.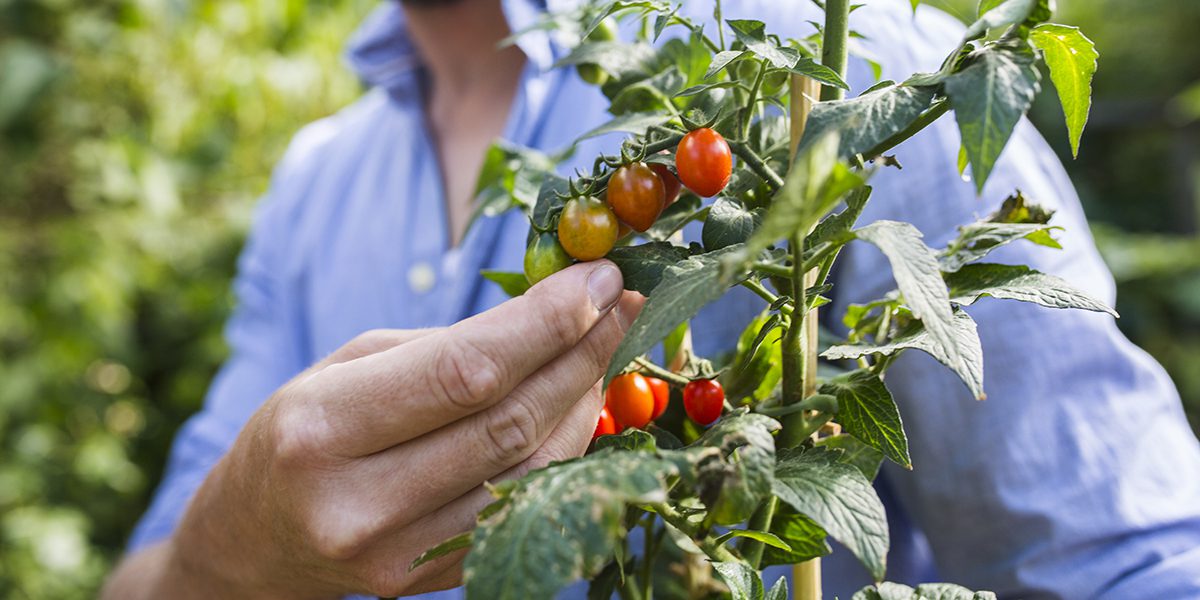 Revitalize Your Passion for Gardening With The GrowBox From A Garden Patch
Gardening can quickly become a headache when you don't have the right tools and proper know-how. For example, you can learn more about tomato plant spacing to improve your green thumb success. You can also get the Garden Patch GrowBox.
The Garden Patch GrowBox is our automatic planter that allows you to enjoy the harvest without the hassle. A GrowBox can help your plants grow without the threat of tomato diseases. Order online or by calling us at (800) 519-1955!